I am now the official hat fixer. This was a headpiece with a very narrow plastic head band to hold it in place. It was a bit bland and unfinished. In addition the headpiece would not stay on the head, and we did not know the actor's head size. Do a search for hats in the search widget.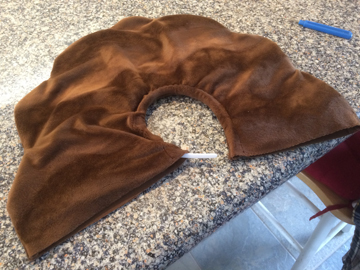 I first disassembled the crown. I removed the narrow plastic band, and replaced it with a wide one with grippers. The batting material was floppy and caused the crown to fold and crumple with any movement. See the fissures in the picture below? I replaced that with a 1/4 inch reinforced craft foam insert. Nice and lightweight, yet less flex.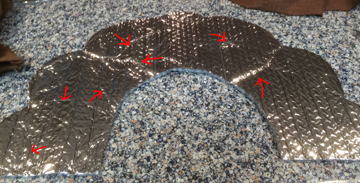 Then My daughter and I sewed a modified snap cap. We picked a matching color. We cut an opening in the back and lined it with bias tape of the same material.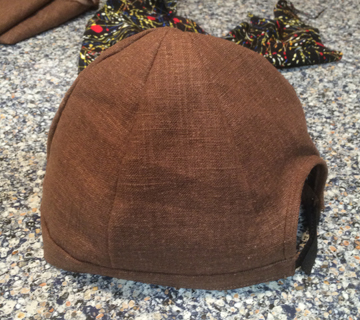 Then we lined it with fancy stuff just for fun. A narrow brim band was added.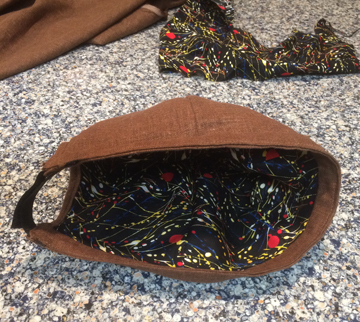 On the back we placed a Velcro closure to the hat size would be adjustable for any actor.
In the final picture you can see the wide band. I sewed Velcro to the snap cap for the length under the band. And the other piece to the bottom of the band. The crown is removable, but it is difficult to get off. It will not fall off. IF the cap closure is drawn tight with the Velcro, it will not fall of either.
Good enough to eat!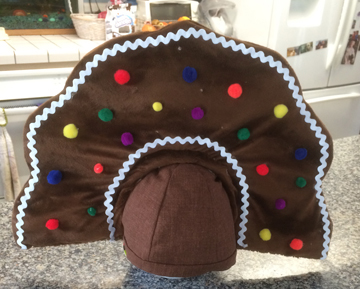 See also Bishop's Hat, Rooster Hat, Bear Hat, and Gnome Hat!