I made a little 2 gallon test brew. It is in bottles now. So I started on another batch.
Caribou Slobber:
This is a kit available from Northern Brewer. It uses
.25 lbs Briess Caramel 80L Malt
.25 lbs Fawcett Pale Chocolate Malt
.125 lbs Black Malt
I got the Davis water report and then decided to use Crystal Geyser Water…
The water is heated whilst the grains steep in the pot for 20 minutes or until the water reaches 170 degrees. I timed it so that 170 degrees occurred at exactly 20 minutes.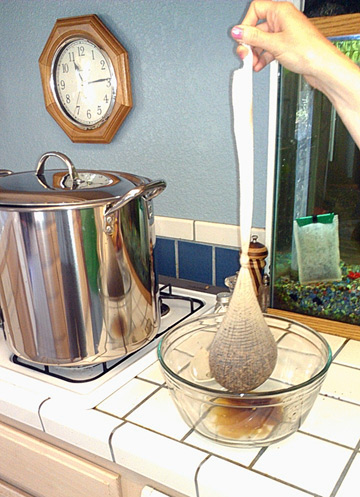 I spent a lot of time sanitizing everything.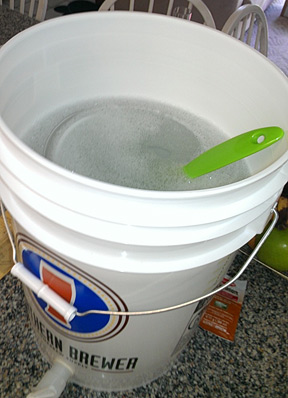 The spray bottle was useful for surfaces and touch ups. I used a Pyrex casserole dish with Starsan for the small parts.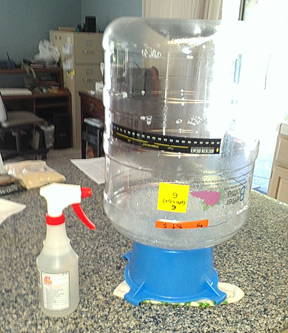 After the steeping, the tea was boiled, and then the
6 lbs amber malt liquid extract
1 lbs Amber dry malt extract
was stirred in heat off. Then resume boil.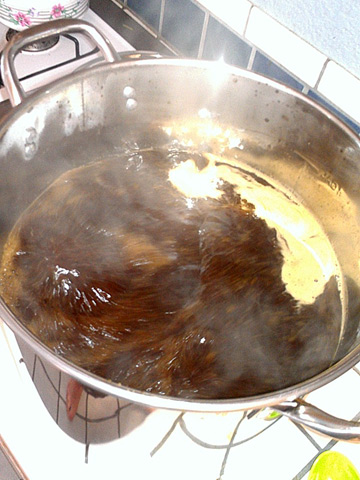 Hop additions at:
1 oz US Goldings — 60 min.
1oz Liberty — 45 min.
1 oz Willamette — 15 min.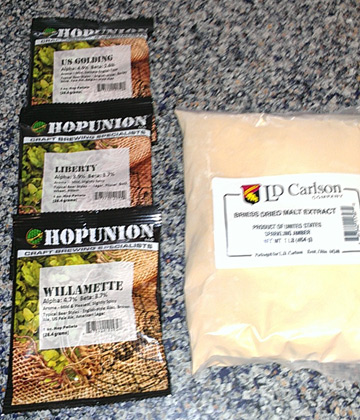 I chilled the wort in the kitchen sink with Ice water. Then put chilled water in the 6 gallon primary carboy. Added the wort. OG was 1.050.
The Windsor yeast was pitched at 74 degrees. Then, when visible signs of fermentation showed, I lowered the wort temperature slowly.
The air lock is in place, there is a chemical temperature strip on the bottle. This corresponds well with the digital probe adjacent to the wort and insulated from the fridge air temperature by a 2 inch block of Styrofoam Duck taped to the carboy.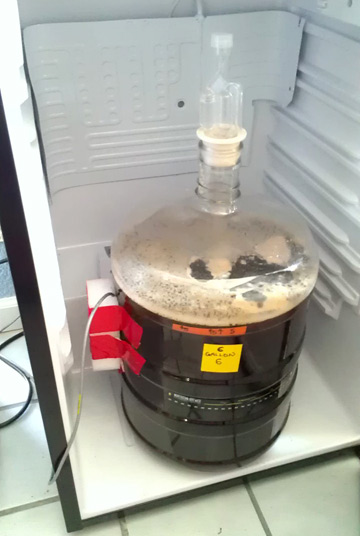 Outdoor temps. are running 100 to 107 this week. The minifridge fermenter keeps the wort temperature cool and constant.
This photo shows the A419 controller is reading the fermenting wort at 68 degrees. In the meanwhile the air temperature in the mini fridge has increased to 71.1. (Update: a more economical and versatile temperature controller is the Inkbird Pre-Wired Dual Stage Digital Temperature Controller Outlet Thermostat .)
This is because the temperature in our back room is 80.8 degrees (indoors) at about 5 PM (4:59). So the fridge is heating up, but the mass of the wort causes its temperature to lag behind the ambient temperature in the fridge.
The fridge is off. It will come on when the wort temperature reaches 69 to keep it constrained to a narrow temperature range.

The yeast got off to a quick start. I should have known better. Even with cooling the wort, the yeast were reproducing like a sailor just back from 6 months at sea.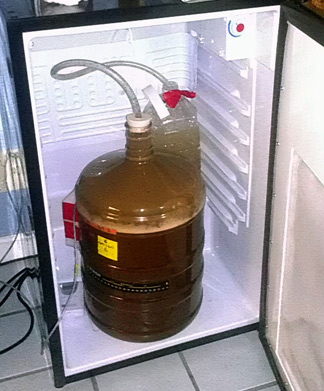 A head of foamy krausen formed on top of the beer. The krausen expanded and plugged the small holes in the fermentation lock. I placed a sanitized blow-off tube leading to a tub of Starsan. When the action begins to slow, I will change back to the fermentation lock.